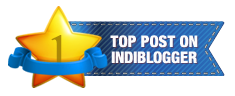 Story of Tublu
by
Jahid Akhtar
My rating:
4 of 5 stars
Just finished reading 'Story of Tublu' authored by fellow blogger Jahid Akhtar. I enjoyed reading it. It felt as if I was sitting with him for a couple of evenings as he narrated this wonderful tale of how a poor boy falls in love with a rich girl (clichéd, yet not) and the obstacles that he has to overcome to express his undying love. Despite it being a love story it is not mushy. The idiom is Indian, nothing fancy in the language which is day to day and practical.
I also liked the fact that equal importance was given by Jahid to the girl's thinking and actions. It is not only about the hero but also about the heroine, so effectively the book does have two stars that manage to shine throughout.
Though the plot is nothing out of the ordinary the treatment given is uniquely refreshing. For a debut novel it is impressive.
It does not get into too much of detailing the geographical ambiance but concentrates mainly on the emotions of the characters that have been fleshed out without boring the reader with a lot of history.
The pace is consistent and the end of every chapter wants you to continue to the next as soon as possible.
While reading the book it feels like the author has your pulse and answers your questions in anticipation.
It is refreshingly Indian in its language and laid back pace.
If you are planning to read the book, which you must, avoid reading the foreword where the killer's name is given away!
Jahid blogs at
http://jahidakhtar.blogspot.com
You can find him on Facebook at
https://www.facebook.com/jahid.akhtar.37
and on twitter at
https://twitter.com/jahid_666
The paperback 204pages book is available on Amazon for
Rs.200/-
View all my reviews